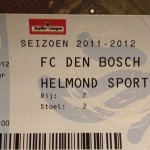 Lokatie: Stadion De Vliert. Gelukkig een "old school" naam voor een stadion, ipv. "sponsornaam stadion".
Datum: vrijdag 24 februari
Bezochte wedstrijd:FC Den Bosch – Helmond Sport. Uitslag 0-0. Zouteloze wedstrijd.
Bijzonderheid: kaartverkoop aan de kassa vond plaats op basis van een geldig, regiogebonden ('s-Hertogenbosch en omgeving) legitimatiebewijs of een club- of seizoenkaart van FC Den Bosch. Geen idee of dit er voor gezorgd heeft dat het stadion amper vol was. Begrijpen doe ik deze regeling niet. Er was amper politie op de been (conclusie die ik daaraan hang: amper risico, weinig te verwachten waar het supportersrellen betreft). Jammer; zo'n derbij verdient een vol stadion.
Foto's: